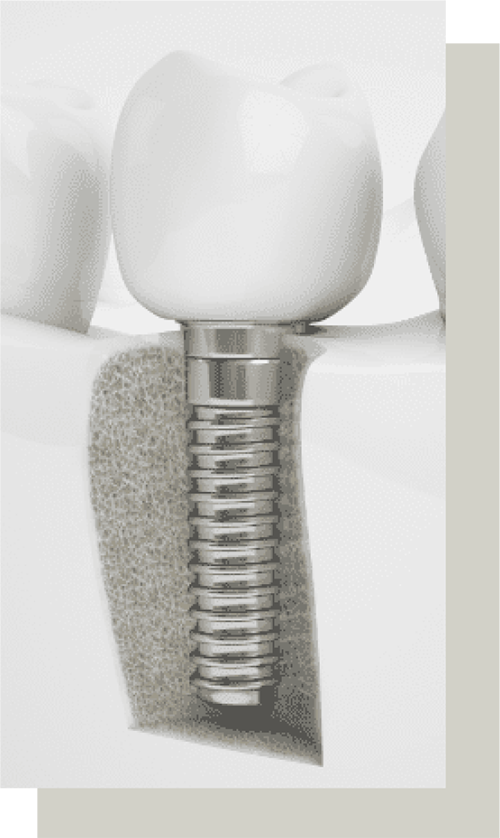 What you should know before getting dental implants.
There are many factors that can influence the success, comfort, result and aesthetics of your dental implant.
From the experience of your dentist to the cost of your procedure, we encourage you to look at every detail and learn as much as you can about dental implants before choosing a dentist. Here are 10 things to consider before getting a dental implant.
Important factors to consider when getting your dental implants:
Results

- we stand behind our work

Technology

- for improved accuracy and safety

Financing

- flexibility you can afford

Materials

- high-quality materials

Care & Service

- putting your needs first

Recovery

- a plan in place

How to Prepare

- comprehensive evaluation

What to Expect

- the process explained

Failed Implants

- we have a solution
---
Dental Implant Results - we stand by our work
There's a reason dental implants are quickly becoming the most popular treatment for missing teeth, and that's because the results are stunning. We carefully diagnose and plan every implant procedure to ensure each one results in a natural-looking and comfortably fitting tooth restoration.
Our dental implants provide a strong foundation to replace missing teeth and provide results that look and feel natural.
HOW DOES IT WORK?
To begin the implant process, a metal post is surgically positioned into the jaw. This post will act as a permanent "root" for the implanted tooth. Once it is in place and the surrounding bone and tissue have healed, the restoration is completed with a beautiful crown that looks, acts and feels like a natural tooth.
BENEFITS OF OUR DENTAL IMPLANTS:
We stand behind our work
Improve functionality—both eating and speaking
Minimize oral bone loss
Reduce compromise to adjacent healthy teeth
Eliminate the discomfort of removable dentures
Improve oral health and hygiene
Give you back your smile and help you feel better about yourself
---
Full Mouth Dental Implants as Alternative to Dentures - Your certified provider of All on 4
Goad Family Dentistry is a certified provider of All on 4 Implant treatment, a prosthodontic procedure for patients with significant tooth loss, decay or bone loss to the point where a conventional dental implant is not possible. The All on 4 process involves surgically placing 4 implants in the jaw, on top of which a full tooth bridge is placed. This procedure can be completed in just one day!
BENEFITS OF ALL ON 4 INCLUDE:
A great solution for patients with missing teeth or excessive bone loss
Immediately improves your smile's function with new, natural-looking teeth
Replaces dentures for life
Improves oral health and hygiene
Restores youthful appearance
Long-lasting results
Easy maintenance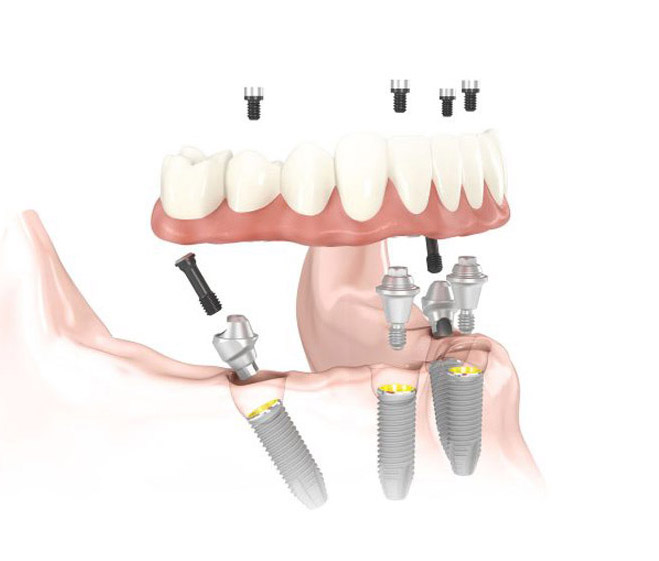 ---
As with any treatment you receive at our office, we will look after you from start to finish. Our caring team will remain attentive to your needs and work at a pace that is appropriate for you to ensure your comfort and confidence through each step of your procedure. You will be treated like family.
RECOVERY
Placing a dental implant is a form of surgery, and with any surgery it is typical to experience various forms of discomfort including swelling, bruising, pain and minor bleeding. We have post-procedure tips to share to ensure your recovery goes as smoothly as possible, and if appropriate, we will can prescribe medication to lessen any pain.
FAILED IMPLANTS? WE HAVE A SOLUTION.
While dental implants are highly successful, occasionally an implant will fail to fuse with the bone. We don't hide details like this from our patients. If by chance your implant fails, we have a plan in place to remove the implant and clean up the bone. With your needs in mind, we may recommend a repeat procedure down the road.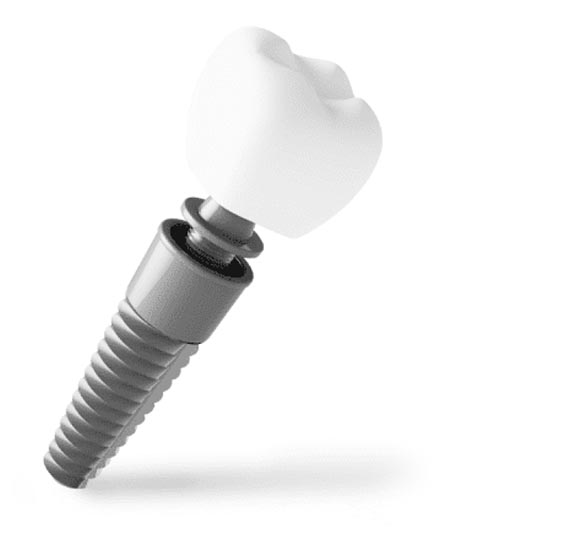 ---
What to expect - the process explained
Dental implants are an oral surgery procedure that typically require multiple visits to the dentist. The implant process involves removal of the damaged tooth, preparation of the jawbone, and placement of the implant, abutment and artificial tooth with healing time in between. Knowing what to expect for each procedure is paramount to your comfort and confidence, and our team will explain the entire timeline before treatment begins.
Are you a good candidate for dental implants?
Missing teeth can make talking, chewing and even smiling difficult. If you're ready for a full, functional smile, you may be a perfect candidate for dental implants — a permanent and stable solution to missing teeth. Thanks to leading technology, more and more patients are qualifying for dental implant placement. Good candidates include patients who:

Are missing one or more teeth
Are looking for a permanent solution
Want results that look and feel natural
No longer want or cannot wear dentures
Have adequate structure in their jawbone
Have healthy oral tissues
Want to improve speech and function
Can commit to several months of treatment
Are in good general health with controlled conditions such as diabetes, cholesterol level and blood pressure
---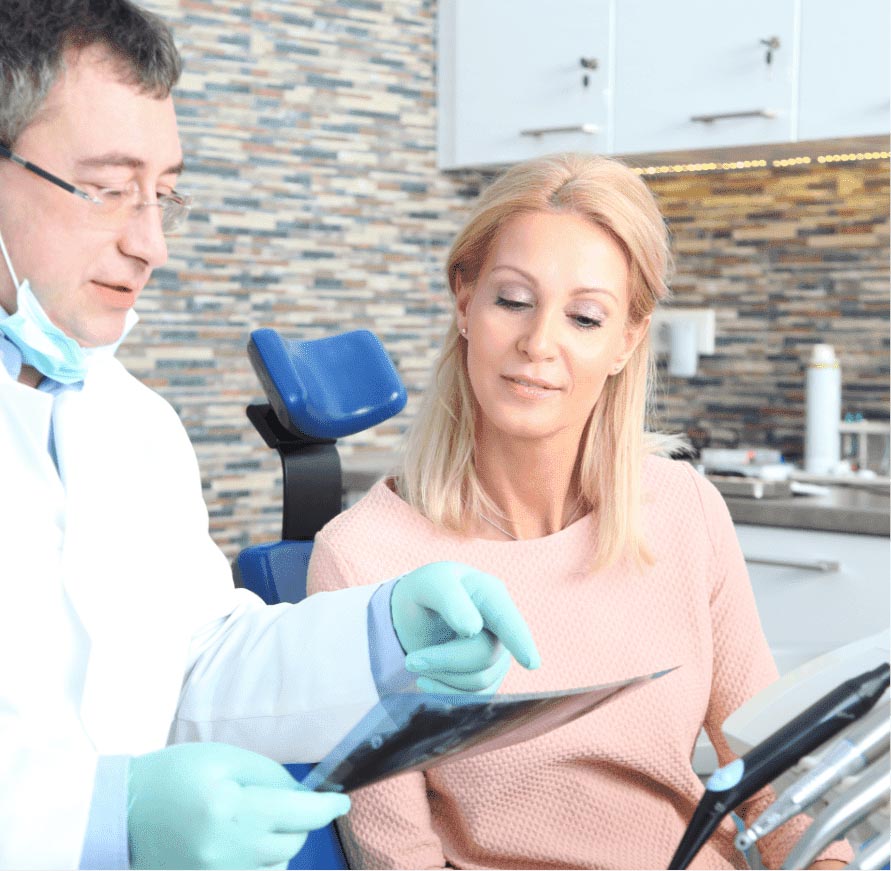 Our Consultation or Second Opinion Includes:
One-on-One Doctor-Patient Education - We will explain all the details of your oral health in an easy-to-understand manner and go over the entire treatment process. We will answer any questions you might have.
Customized Treatment Planning - Your treatment will be designed around your specific needs, timeline and budget. We will also review pricing and financial options, if needed.
Intraoral Exam - A thorough exam of your mouth will be performed prior to planning treatment. This will allow us to properly assess your oral condition.